The world's top 10 poorest countries are measured by the average Gross Domestic Product (GDP) of citizens in each country. GDP is measured by the value of goods and services a citizen produces throughout any given year. The data used to collate the world's poorest countries was compiled by the International Monetary Fund during 2011 in their World Economic Outlook Database.
These countries lack economic growth, investment, industrialisation, education, resources and healthcare. As a result, millions of people are left starving, susceptible to illness and unable to progress in life. The level of a countries economy and investment is interrelated to the countries GDP, literacy rate and employment rate. A strong coexistence between both economy and living standards is necessary for any country to develop and industrialise. Without the appropriate investments and funding, these countries are subjected to eternal poverty.
1. Congo
GDP per capita $347: The Democratic Republic of Congo is a country plagued with poverty, war and violent crime. It is estimated that 45,000 people died per month in 2010 from the Second Congo War. A total of 5.4 million people have already been killed due to the conflict and hundreds of thousands of people have been raped during the war. There are around 200,000 surviving rape victims in the country, many of whom may have become HIV positive. Local villagers believe sleeping with a virgin child will cure AIDS, as a result HIV is spread to the child. The DRC is also the only country in the world with tribes of cannibals that eat other people to survive amid the famine.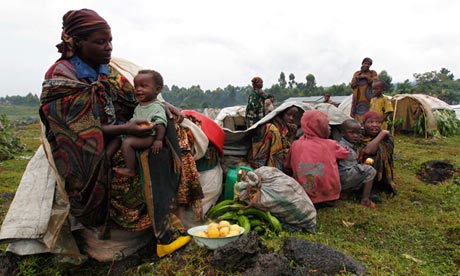 Source Photo: James Akena/Reuters
2. Liberia
GDP per capita $416: After a 1980 military coup which deposed then president William R. Tolbert, the country descended into chaos with two civil wars ensuing. Hundreds of thousands of people were killed and the economy was left shattered. With such a weakened economy, the unemployment rate is currently 85% and 90% of the population lives below $1.25 per day. The average life expectancy is 44 due to malnourishment, non-existent healthcare and maternal mortality. There is no family planning or support for women who typically give birth to around 7 children.
Source Photo: http://www.oxfam.org.uk
3. Burundi
GDP per capita $430: Burundi has a low GDP due to civil wars, tribal conflict, corruption, lack of education and the prevalence of HIV. According to the World Food Programme, 57% of children under 5 suffer from  severe malnutrition. This leaves children vulnerable to premature death. Around 80% of Burundians live in poverty and HIV has a prevalence of 4.2% (2007). Life expectancy is estimated at 48.5 years due to malnourishment and virtually non-existent healthcare. There are a mere 3 physicians to every 100,000 Burundians.
Source Photo: AP Images
4. Zimbabwe
GDP per capita $471: The country has been headed by dictator Robert Mugabe since 1980. It is one of the poorest countries in the world thanks to hyperinflation. At one stage in 2008, inflation got so high that an apple which typically costs $1 would cost $1 billion a month later. In 2009, Zimbabwe released a $100 trillion dollar bill in an attempt to combat inflation levels. The country also has one of the lowest life expectancies in the world with 45.77 years for men and 46.36 years for women (CIA World Factbook 2011). A significant factor in premature deaths is the HIV positive rate of 20.1% and the lack of sufficient healthcare.

Source Photo: AP
5. Eritrea
GDP per capita $731: Eritrea has a very poor education system with only 2 universities throughout the country and 824 schools. Malaria and Tuberculosis are common in the country and there is a high risk of neonatal death being caused by infection. However, maternal mortality rates have been significantly reduced and as recorded in 2002, 28% of births were attended by skilled healthcare professionals. The Eritrean-Ethiopian War (1998-2000) heavily damaged the countries economy and caused approximately $600 million in property damage. The country is still recovering from the effects of the conflict.
Source Photo: www.bestourism.com
6. Central African Republic
GDP per capita $774: The countries government is extremely weak and as a result, citizens are entirely dependant on foreign aid and the support of aid workers. While the country is self-sufficient in food, people still suffer from hunger and malnutrition. This is mainly due to farmers selling their crops to foreign countries in order to generate larger profits. In 2006 rebel forces attacked government security leading to the starvation of 50,000 people. As of 2007, female life expectancy is 48.2 years while male life expectancy is 45.1 years. While education is free and compulsory around 50% of adults are illiterate.
Source Photo: https://www.un.org
7. Niger
GDP per capita $795: Over 80% of the country is covered by the Sahara desert and desertification is a constant threat to Nigeriens. The record temperatures and ongoing droughts have led to displacement of people, hunger and malnutrition. The child mortality rate among 1-4 year olds is exceptionally high with 248 out of 1000 children dying due to insufficient healthcare and inadequate nutrition. While primary education is compulsory for children for a period of 6 years, the majority of children do no attend school. They are either forced into work or are unable to travel to a school.
8. Sierra Leone
GDP per capita $846: Between 1991 to 2001 50,000 people were killed due to the Sierra Leone Civil War. 500,000 people fled to neighbouring Guinea and Liberia. This conflict  severely damaged the economy and made citizens even poorer. While 6 years at primary school and 3 years at junior secondary school are required by law, around 66% of adults are illiterate due to the lack of schools. The ineffective healthcare system has resulted in the world's highest maternal mortality rate of 2,000 deaths per 100,000 live births. Cholera, meningitis, yellow fever and lassa fever are among the diseases that spread during epidemic outbreaks.
9. Malawi
GDP per capita $852: Around 85% of Malawi's population live in rural areas, many replying on agriculture as a means of survival. One third of the countries GDP derives from agriculture whilst 90% of export revenue comes from the agricultural industry. There are a huge number of investments barriers in the country and in 2009 investment fell by 23%, causing Malawi to loose some of its ability to pay for imports using foreign currency. Despite the wide scale poverty, there has been an increase in living standards from 54% of the population living under the poverty line in 1990 to 40% in 2006.
10. Togo
GDP per capita $892: According to 2005 statistics,  infant mortality in Togo is 78 per 1,000 live births whilst life expectancy is a low 56 for men and 59.6 for females according to a UNDP Human Development Report. According to the same report, there were only 4 physicians to every 100,000 people in 2000 with an average health expenditure of just $63 per person in 2004. Half of the countries population live on less than $1.25 per day and 20.5% of children under the age of 5 are considered underweight (CIA World Factbook 2008.)
Source information: http://www.actionforourplanet.com/#/top-10-poorest-countries/4547138651